---
A project to ensure people with a learning disability had access to the COVID-19 vaccine has been named 'Inclusion Champion' at the Greater Manchester Health and Care Champion Awards.
The learning disability teams from NHS Salford Clinical Commissioning Group (CCG) and Salford Royal NHS Foundation Trust worked together with Salford Primary Care Together and GP practices across the city to identify every person in Salford with a learning disability and offer them the vaccine.
They thought about what puts people off having the vaccine such as fear of doctors and healthcare settings; fear of needles; sensory overload in busy vaccination centres; difficulties in waiting for long periods of time and not having information in appropriate formats to enable them to make an informed choice. They decided that as a 'reasonable adjustment' they would offer all people on the GP learning disability register a home visit from a specialist nurse, who understands the needs of people with learning disabilities, for their vaccines.
Easy read booklets and letters were produced, along with a dedicated vaccination booking line for people with learning disabilities. For those who could attend a vaccination centre, dedicated clinics were set up with longer appointment times, no waiting and relaxing music playing. Family carers were also offered the vaccine.
As a result, uptake for the first COVID-19 vaccine amongst the learning disability community was 84% while second dose uptake was 81%.
Sean Dempsey (44) lives in Salford and has Down's syndrome. Sean was given the vaccine by a community learning disability nurse in his own home to make it easier for him. He said: "Mandy came to my house. It helped that I already knew her. She made me feel more confident and helped me feel calm, just by being herself. I didn't look! It was brilliant, it will keep me safe. Normally I am scared of getting jabs, but this arrangement made me feel confident."
Dr Tom Tasker, Chair of NHS Salford CCG, said: ''We are incredibly proud of this achievement and recognition by the GM Health and Care Champion Awards. It demonstrates true partnership working in Salford and how we really came together during the biggest immunisation programme in the history of the NHS whilst making sure that no one was left behind. The team went above and beyond to help people with learning disability understand about the vaccine and make the COVID-19 vaccine experience as easy as possible.''
Dr Dawood Anwar, Chief Clinical Lead for Salford Primary Care Together, added: "These awards demonstrated the strength of the relationships we have in Salford. All providers came together, collaborated and innovated to provide clinics for one of the most at risk cohorts in our community.''
"This was an effort by all – the specialist nurses, the commissioners, public health and SPCT teams and wider primary care colleagues. It has been a great achievement – all of us coming together for the right reason, to do something really special for our patients.''
The project was honoured at the GM Health and Care Champion Awards, the only Greater Manchester-wide awards to recognise members of paid and unpaid workforce who regularly go above and beyond to improve the health and wellbeing of the people of Greater Manchester.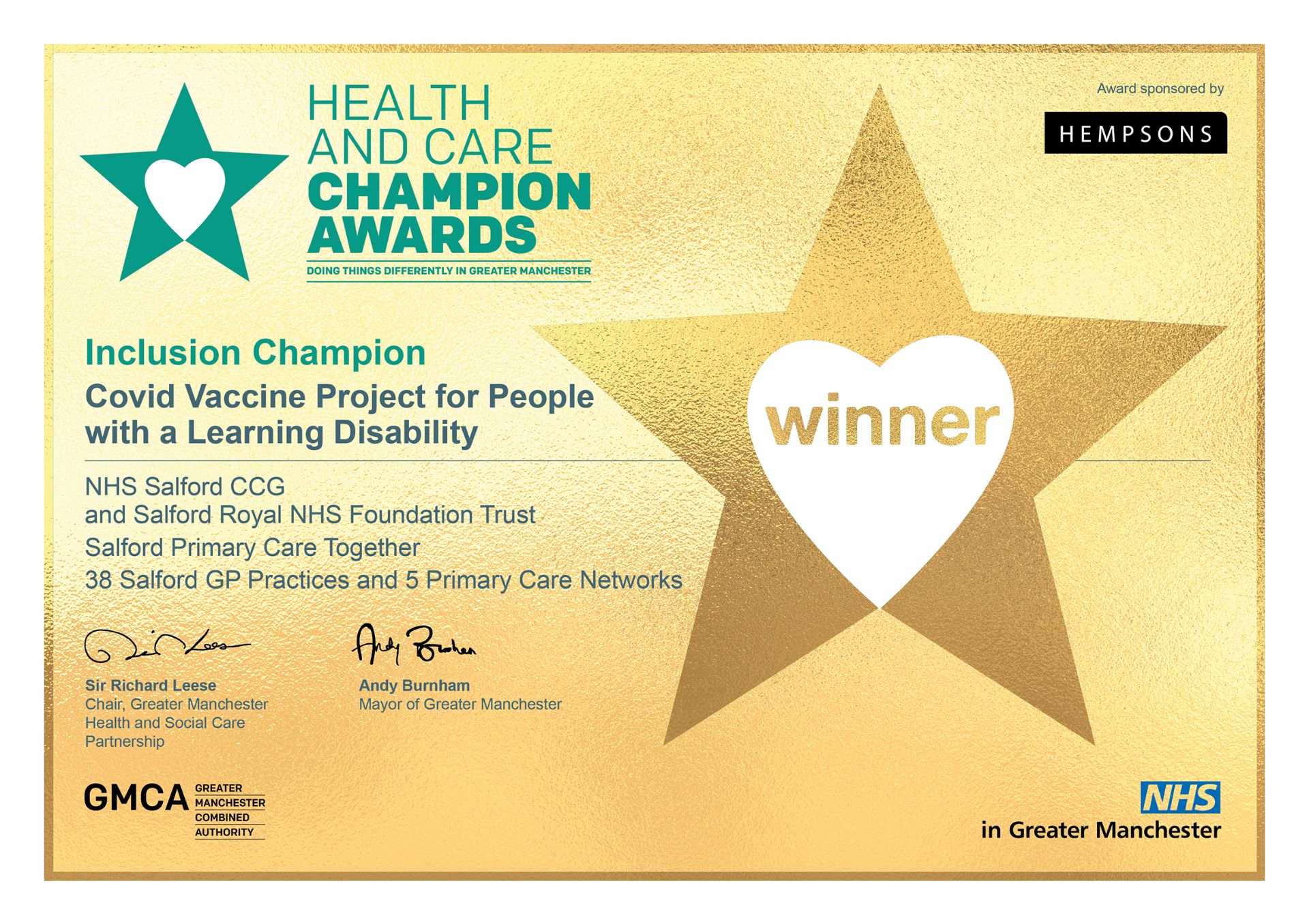 ---